Home Office Desk Evolution
Setting up a home office can be a daunting task. Doubly so when you don't get an opportunity to plan it out and you have to set things up with no warning and items on hand. Since starting to work from home on March 17th, my desk has been through 3 major versions.
A word of warning: I struggle to keep a tidy desk, and I didn't clean up before taking the pictures seen here.
I discussed the first two iterations of my workspace shortly after the shift to working from home, but now that it's about 7 weeks later, it's time to revisit. But let's start at the beginning.
Version 1.0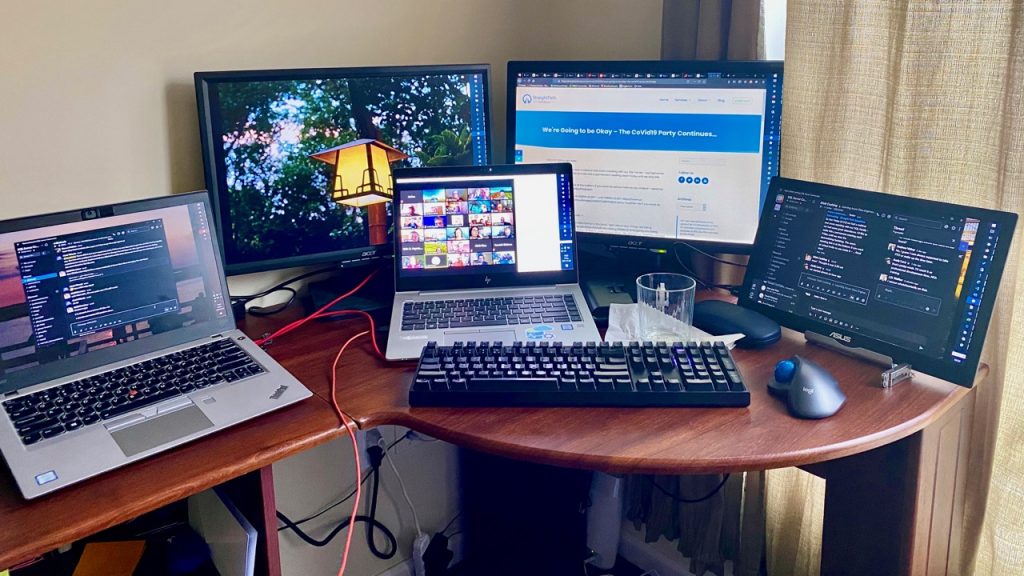 I set up shop in our spare bedroom which my wife had converted into an office space for herself a number of years ago. She relocated to the dining room. Hardly ideal, but it mostly worked. But her desk was, to put it mildly, cramped for my needs. Two laptops, an external keyboard, and 2-3 displays were just too much for the amount of space on that desktop. Hunched over this desk and crammed into a corner, after being used to having a standing desk for a year or two, was causing me a lot of discomfort. We knew this would be a temporary setup anyway.
Equipment
Version 2.0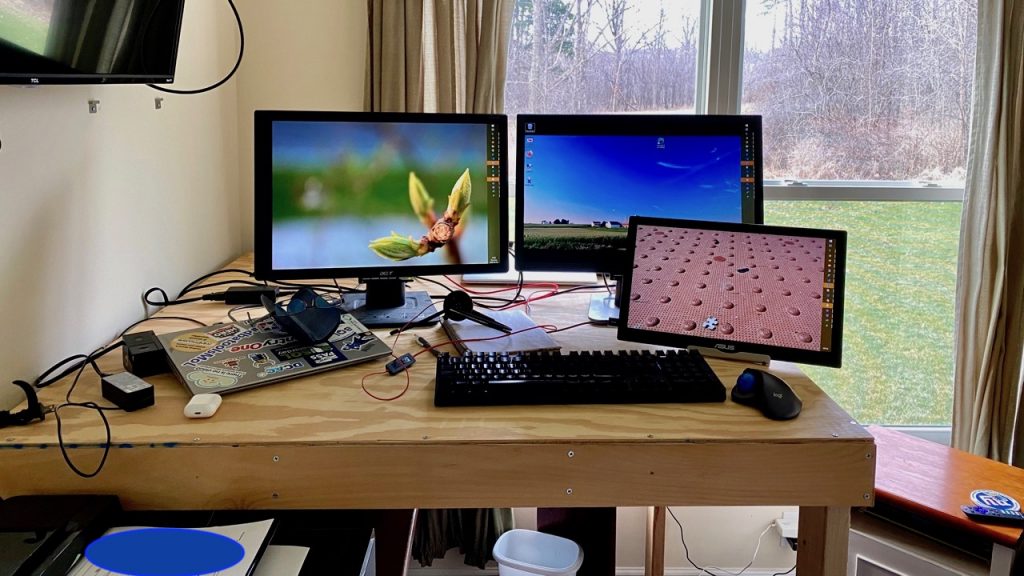 About 10 days in, I (and my back) had had enough. In our basement was an elevated table I'd built a few years ago. It's 4'x4', but I got very lucky in that the top was almost exactly the right height above the floor for a standing desk. Time to repurpose! We moved my wife's desk into the dining room so she'd have a better setup, then I disassembled the table in the basement and moved it up to my space. The gear stayed the same, just arranged differently.
This worked okay, but there were a few issues which ensured that this would remain a temporary setup.
When I positioned the table, I knew it was wobbly in one direction, and stable in the other. I set it up so that it was more stable front to back than side to side.
It's all unfinished wood. 1x4s for the frame, 2x4s for the legs, and a half sheet of 1/4 inch plywood for the top. I had sanded it a while ago, but moving bare hands around unfinished plywood all day…I'm surprised I didn't get splinters.
A 4x4 table is big when the room it occupies is at best 10x10. It consumed a lot of the room, and a lot of that tabletop space was wasted.
See that printer in the bottom left corner? It's also our scanner/fax machine (yes, we still fax. A lot.). It had to move elsewhere.
With basic 2x4s for legs, the height was fixed. I stand 90% of the time, but for long conference calls, being able to take a seat is nice.
Version 2.5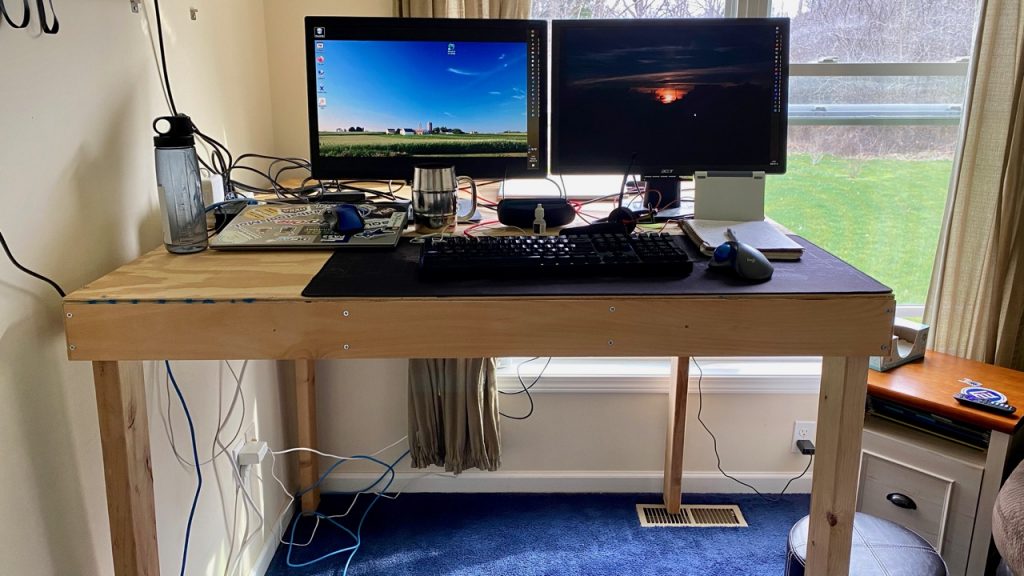 A couple small adjustments:
I dropped the 3rd display. It kept getting in the way, and it's 30 pixels taller than the other two, so moving between them was a pain - I had to make sure that I wasn't outside the bounds of the lower-res LCDs.
I added a keyboard mat (900mm x 400mm) to cover up the plywood. I never really understood these mats but now that I have one, I get it. It just makes things feel a bit more comfortable, polished, and deadens some of the keyboard noise that comes along with typing on a big, thin sheet of plywood.
Unseen, but I also added a Top Comfort Mat by Ergodriven. I've been using a flat rectangular silicone mat with the standing desk at work, but this one came recommended as it offers non-flat options for foot position. I find that I'm changing positions more with these options available.
The scanner/fax machine got moved elsewhere.
Version 3.0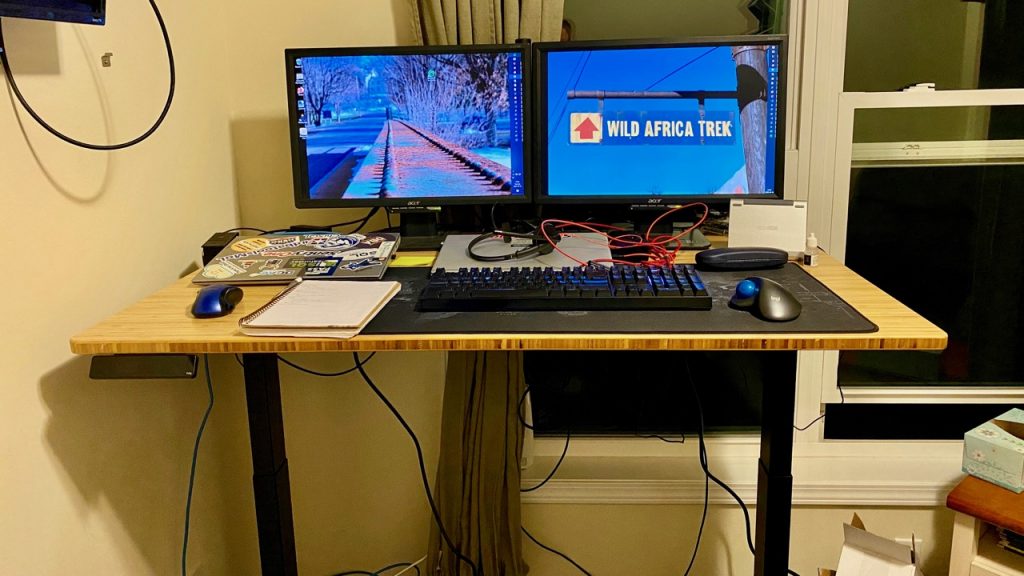 This was the big upgrade. After a month of analysis paralysis, I ordered a nice, powered sit/stand desk. It's the 30" x 48" Fully Jarvis Bamboo, with the programmable keypad and cable management tray/kit. For a while now, I've known that I would need to build out home office space for myself someday and this desk will serve me for years to come.
Separately, I ordered a two-arm VESA mount for the LCDs from Amazon. The original LCD pedestals aren't quite high enough to keep tilting my head forward to see everything while keeping the desk at the proper height, so I expected the extra elevation to help. It would have freed up some desk space as well, letting me stow the computers under the displays. Alas, it was not to be. Despite both LCDs being made by the same company, in the same month, with the same model number, the housings are different, and the VESA mounts placed differently relative to the display edges, so I couldn't get the displays to line up. The arms went back to Amazon.
Version 3.5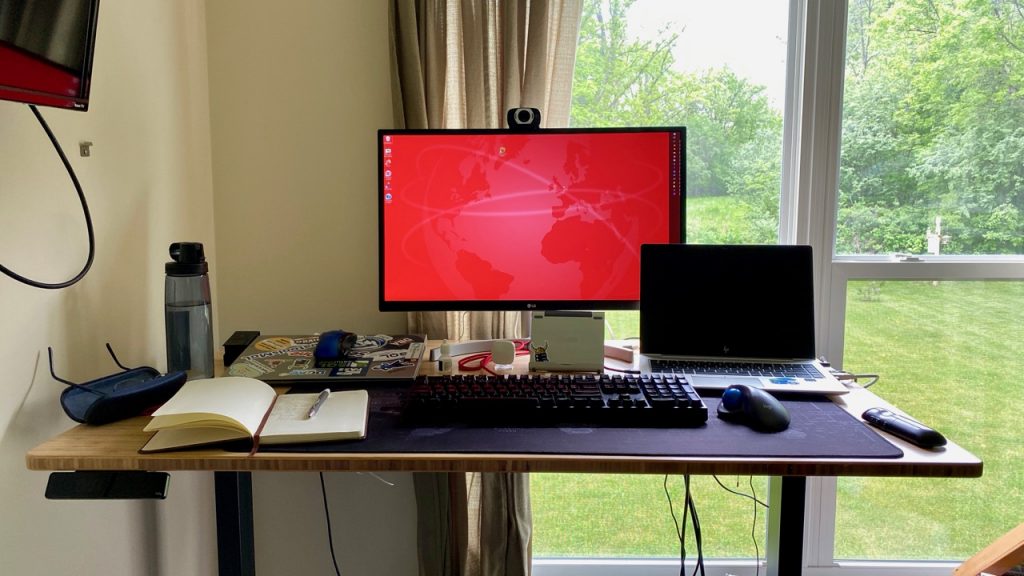 I was growing increasingly frustrated with the two 22" LCDs. In addition to being too low, they felt confining and the large bezels broke up my field of view. One last significant upgrade - an LG 27UL500-W 27" 4K UHD display. And it is beautiful. I don't have to (can't, really) run things full-screen, I can have medium-sized windows that are still large enough to fit content comfortably without scrolling, and arrange them so I can see what I need to see and easily bring them to the foreground.
I've also perched a borrowed Logitech C615 webcam atop the display. Since my previous post, we've started doing video calls at work. The camera atop the monitor is a much more comfortable and natural position, as I don't have the laptop camera lookup up at me; the camera is looking me right in the eye. This camera also works well as an external mic for the computer, so I don't need to wear a headset for long calls.
Not seen in this photo is an Anker USB-C hub. The 4K display didn't get along with the HP dock (works great with the Lenovo, though), so I stopped using it. But the computer only has two USB-A ports and I need at least three (trackball, keyboard & webcam). This gives me the extra USB ports I need, plus Ethernet and HDMI (which the computer has anyway), but lets me unplug very quickly and even move everything to the Lenovo as a pseudo-KVM switch.
I'm on the fence about getting a VESA arm for this display. I probably should, so I can bring it up another two inches or so.
I think (hope) I'm done making changes to the desk arrangement for a while. This stuff starts getting expensive! But it's worthwhile. If I'm spending 8-10 hours a day 5 days/week with the setup, I need it to be comfortable and solidly usable.