T-SQL Tuesday #133 - Taking a Break
T-SQL Tuesday is a monthly blog party hosted by a different community blogger each month, and this month James McGillivray (blog | twitter) asks us about our views on vacations, escapes, or other breaks.
---

I'd like to know about your own views on vacations, escapes or other breaks. Whether it's work, technology, or any other situation that you need to get away from. Plans, memories, or relaxing activities, I want them all!
You can choose any of the topics below, or any other variation on the theme.
What do you do to take a break when you're stuck at home?
How do you switch off, and get away from being connected 24/7?
If money was no issue, what would be your bucket list vacation?
What vacation are you dreaming of taking once it is safe to do?
What is the best vacation you've ever had?
---
Smaller Breaks
I need to get better about this. A lot better. It's difficult in the winter (or what passes for "winter" now), but I need to make an effort. Whether it's going for a walk or spending a day out in the hills where there's little to no cell reception.
Past Vacations
I could rewind the clock to my childhood but you're not here for that. Let's stick to just what I've done in the past 20ish years. Road trips, cruises, Disney, camping. Our first cruise was our honeymoon, 11 nights in the Eastern Caribbean. We got hooked, and once the kids were old enough, we started taking cruises with them every two years. But that started after we did a trip to Disney World. Several road trips have been solo, or with someone not in the family. Usually to go to a SQL Saturday event (sure, I'll count a SQL Saturday weekend as a vacation!).
Switching Off
By far, the best way I've found to "switch off" is to go on a trip where it is impossible or cost-prohibitive to be connected. Historically for us, that's cruising. Today, it costs roughly $20/day to have internet access on a cruise ship, and I just won't pay that for a week. Even better, it's impossible for people to reach me. On that honeymoon cruise, it took three days for my brain to switch off due to the work and wedding stress I was decompressing from. There was no wifi on the ship (that I knew of - but smartphones didn't exist yet) and using the PC lab in the ship's library cost 50 cents per minute - I looked at my email a couple times to check flight statuses or let people know we hadn't fallen overboard but that was it.
We did opt for the internet service on our last cruise, a 3-nighter. I left my phone in Do Not Disturb mode the whole time and made a conscious effort to not use it as more than a camera that was always in my pocket, or to jot things down in my journal. But every now and then, it was kind of fun to drop a photo on Instagram and get peoples' reactions.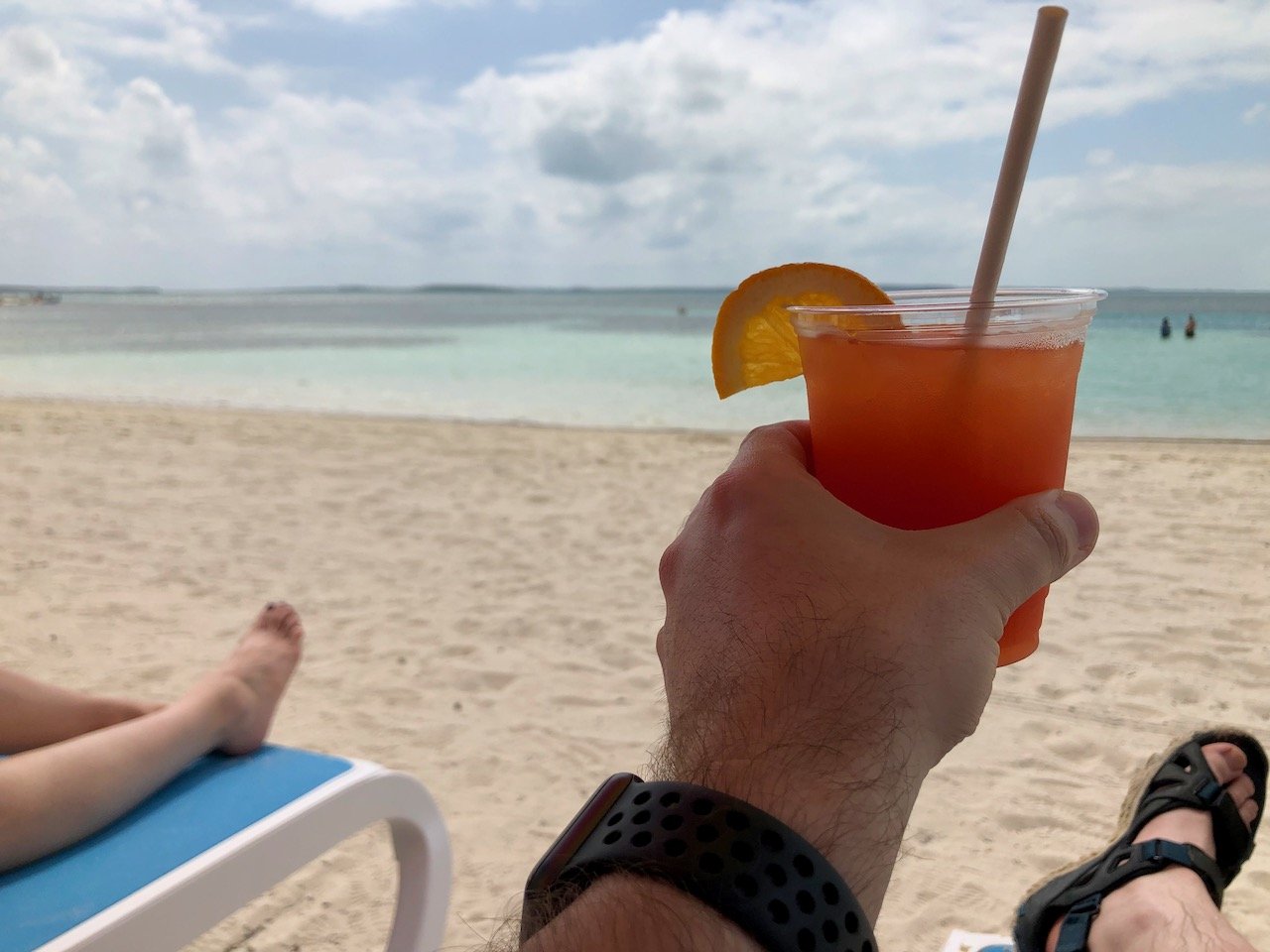 This wasn't my first island beverage of the day. Nor the last. Nor was it lunchtime yet.
Even when we went to Disney World, you couldn't fixate on your phone because there's just so much to do and see. I understand now that a smartphone is a necessary tool to navigate the parks and while I can see how it could be handy, I worry about it becoming a dependency instead of a "nice to have."
I've got some terrific photos and even better memories from these trips.
It's All Different Now
We're not getting on a cruise ship anytime soon. Nor an airplane. And Disney World is right out.
Where to Next?
After trying out cabins in a few campgrounds the past two summers, we're changing gears and going back to a staple of my childhood summers. We just purchased a travel trailer and we've got at least four trips booked for this spring/summer, with several more on the way.
We'll disconnect, at least partially. Campground wifi is notoriously bad (if it's there at all). So bad, in fact, that I've already told the kids that their Chromebooks won't be able to connect. Cell connectivity is there, and enough to do some work in a pinch. But why? No schedules, hopefully no TV, no constant email checks, just kick back, relax and bathe my clothes in campfire smoke. Even with all the "conveniences" of modern campers, there's still plenty of work to be done around the campsite, keeping us busy. I'm sure we'll occasionally camp in locations near #sqlfamily and hopefully visit.
But we haven't taken delivery of the trailer yet. So for now, it's just list-making, education via YouTube (30 minutes on how to back into a campsite. 30 more minutes on the proper order for setting everything up), and equipment acquisition in preparation for getting on the road. Turns out there's a lot of stuff you need to make a travel trailer usable off the lot - or even just to bring it home and park it in the driveway.
Once we can hit the road - more memories, more photos. And less feeling like we're constantly on the go. We drive, we park, we relax.
Bucket List Vacation?
We had ideas for big vacations "when the kids are old enough" and the like. The state of the world has totally derailed that. Someday, sure, we'll get to visit Europe and Alaska. For now, I'm content with our new vacation strategy. They're safe, there's variety, and we don't have to deal with crowds if we don't want to.
We all need a break right now. Big, small, doesn't matter. Make the time for yourself, disconnect, and recharge.