The Tech & Gear of PASS Summit 2017
Continuing my series of posts about my PASS Summit 2017 experience. This is about gadgets/gear I brought & software I used, the gadgets I saw around the convention center, and then a little about the hardware & software that was demoed.
Personal
Gadgets
I only brought three gadgets, plus their support items:
iPhone 8
iPad Air 2
Apple Watch Series 3
4-port Anker wall charger
Anker 15K mAH battery pack
2x Lightning cable (for the iPhone & iPad), 1x Micro-USB cable (to charge the battery pack), 1X Apple Watch charge cord
For the amount I used the iPad, I wish I had left it home. I only used it to watch a couple episodes of Stranger Things on the plane. The iPhone astounded me with its battery life. After charging overnight, it still had 30% left on it at 4:30 PM, even with heavy usage. Even better, it charged off the Anker battery pack fast- I was back up to 90% or better in an hour or less, much faster than I've experienced with other devices. This allowed me to top up the battery in the final session/event each afternoon and roam the city for the evening, comfortable that I had enough juice to last me until I returned to the hotel.
Software
Throughout the week, I used Day One to jot down important things - people I met, conversations I had, thoughts that came to mind, photos that I didn't want to lose to the depths of my photo library, etc. I could have used paper and pen, but these were things I didn't want to lose to my terrible handwriting. The other benefit of using Day One is that it records metadata about each entry - location, the current weather, how many steps I'd logged to that point in the day, even tags for categorization. Plus, it's secured by TouchID. All told, I recorded 38 notes from the time I got to the airport on Monday to the time I left Seattle on Friday (although the first one, in which I mused about the TSA, is not fit for publication).
Because I'm skeptical of free open WiFi especially in such a large gathering, I bought a 1-week plan for Encrypt.me for protection.
Slack was used in several sessions and pre-cons throughout the week to drive Q&A - Brent Ozar & Erik Darling used it for their pre-con, the dbatools crew used it for theirs, and it was used for the PowerShell panel discussion as well. There was general chatter on Slack as well, but I think a lot more was going on on Twitter.
I set up an IFTTT recipe to capture #PASSSummit tweets to a Google Drive spreadsheet and it collected over 10K tweets over the week; someday I'll go back through them to see what I missed (I set one up for #SQLFamily too, but haven't reviewed that one yet) and make the full dataset available as a download. Twitter seems to be better/more manageable for getting notifications than Slack.
Late on Thursday, I spotted this tweet but failed to note who wrote it (had to search just now):
Pro tip: Microsoft Lens takes great, framed & searchable snapshots of presenter slides. In sure there are others. #PASSsummit

— Ryan Booz (@ryanbooz) November 2, 2017
Intrigued, I downloaded the app and gave it a test run in a couple sessions and this was my response:
Whoever it was that tweeted about Microsoft Office Lens earlier at #PASSsummit has changed my life. I love you.

— Andy Levy (@ALevyInROC) November 3, 2017
If you are anywhere you find a need to take a photo of a whiteboard, projector screen, or document, get this app. Apple may have introduced document scanning in iOS 11 but this is several levels above and it has earned a permanent spot on my phone. It automatically straightens/de-skews images and makes them very readable, then OCRs them. It even works for business cards and integrates with a number of apps/services already on your phone (OneNote, Photos, Mail, etc.). Here's an example: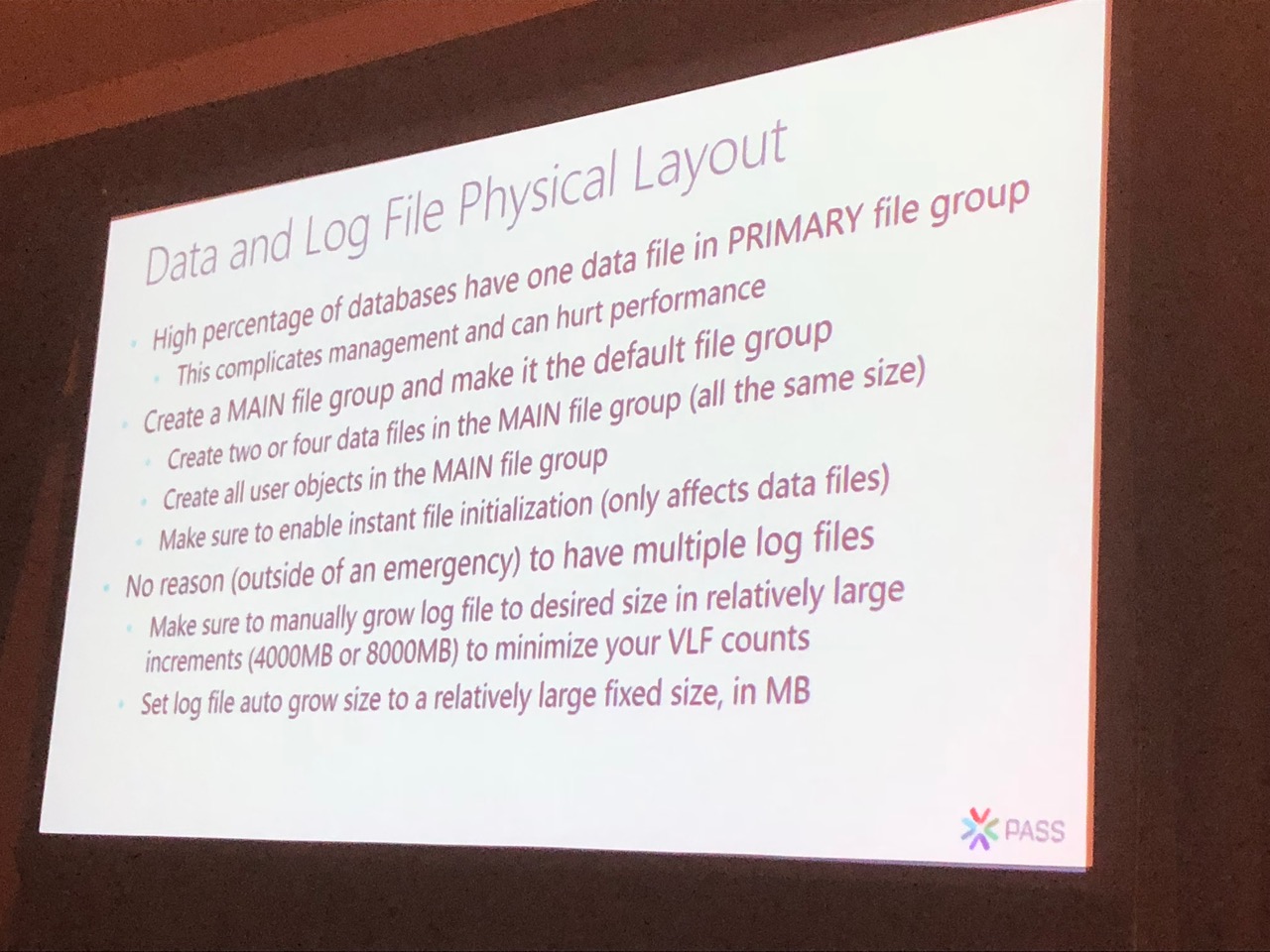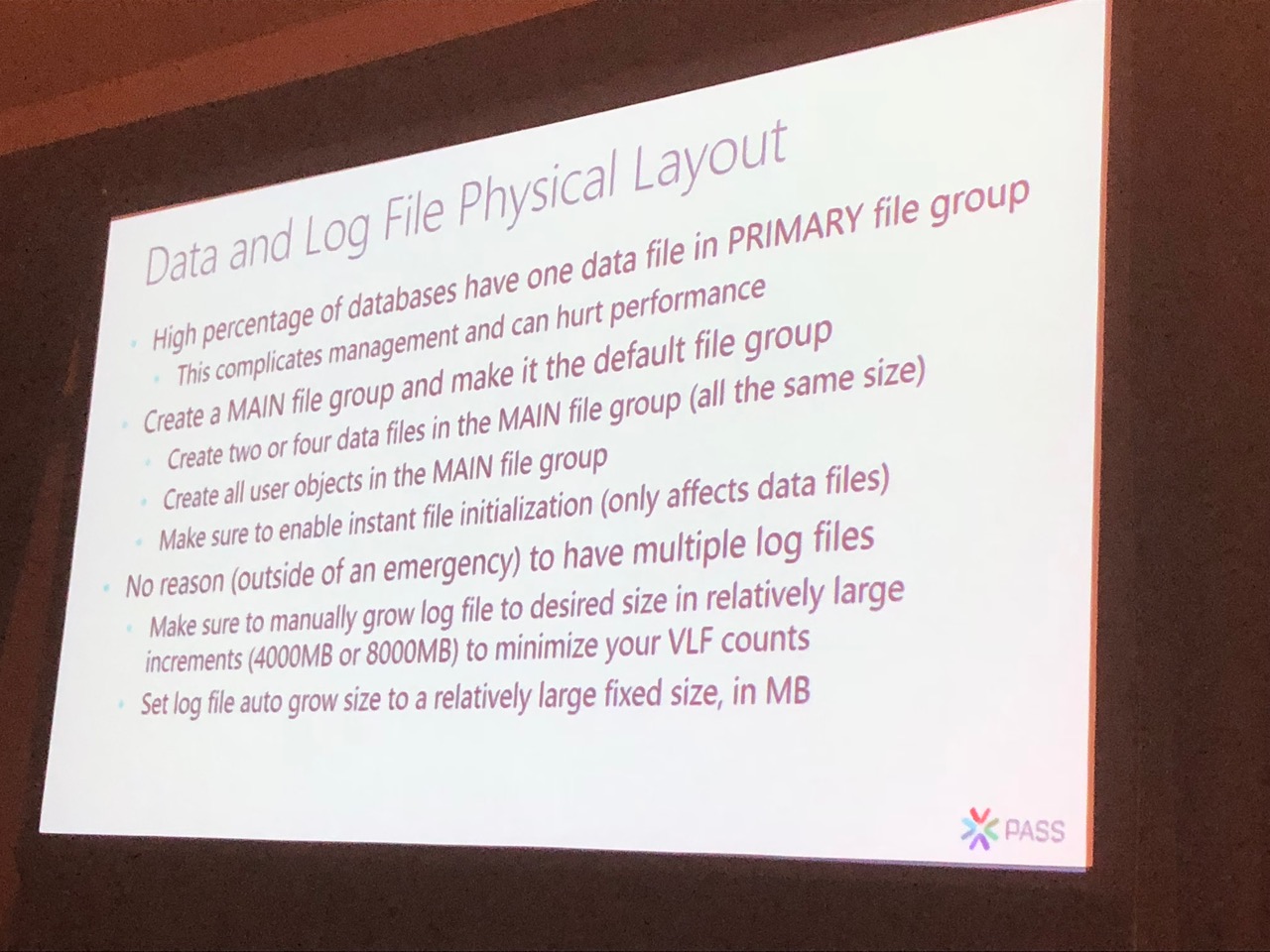 ](/images/slide-before-lens.jpg)
The same slide, after being processed by Lens
The one place Lens falls short (in my experience thus far) is with color images, at least in Whiteboard mode. But if the content is text and line art, it's quite useful.
Other
Despite my terrible handwriting, I still like taking notes at events like Summit (or even in meetings at the office) with pen and paper as I find that writing helps cement the ideas in my mind. My weapons of choice are the Uniball Jetstream 2 pen (seems they're no longer producing this one, or maybe I misremembered the model; the Jetstream RT is hopefully similar) and Staples Sustainable Earth 9 1/2" x 6" spiral-bound notebook. The notebook has a couple pockets for stashing stuff and the covers are rigid enough that they protect the pages and I don't have to put the notebook on a table to write.
My Eddie Bauer sling backpack got over-stuffed in a hurry. Too much swag plus my water bottle and other daily carry stuff. I need to find a replacement for it but don't want to give up the convenience/comfort of the single-shoulder sling style. On the bright side, its obnoxious orange color makes me easy to spot from across the convention center.
Around the convention center
I didn't see a lot of people walking around with iPads or Android tablets. Maybe when the iPad Pro & Apple Pencil become more widespread we'll see people taking notes on them instead of paper. I did see a number of Microsoft Surface computers amongst attendees, and a few laptops. Lugging a full laptop around all week sounds like a drag (not to mention the battery anxiety) but if I had a well-spec'd Surface and large enough backpack, I might consider taking it.
The WSCC WiFi seemed shaky on Tuesday, but settled down and worked well for the remainder of the week. This seems to be the pattern at Summit, in my experience.
There was a common thread running through almost every session I attended as well as the Tuesday meetings, of the projectors blinking on and off for no apparent reason. It wasn't any one presenter's computer, nor was it any one room. It was bizarre but after a while, I think we all got used to it.
New stuff demoed
In Wednesday's keynote, Microsoft ran several PowerBI (and PowerBI-adjacent) demos, but I didn't find them particularly captivating. They were quite brief, and didn't get into the technical work that made it possible. The HPE ProLiant DL380 Gen10 was shown off, boasting high performance thanks to persisted memory. All these demos were very shiny, but very brief. This is a technical audience - give us some more depth here, please.
The item that I found most interesting spent about 5 seconds on screen - a desktop app that looked like someone stuffed SQL Server Management Studio into Visual Studio Code, then a quick slide where the name SQL Server Operations Studio was revealed, along with a note that it's a cross-platform GUI for managing SQL Server. Ever since SQL Server for Linux/macOS was announced, I've wanted this, and they skimmed over it in 5 seconds! Apparently there was a demo session at the Microsoft booth in the Exhibitor Hall later, but only advertised via Twitter; I didn't hear about it until Thursday.