Are You Backing Everything Up?
We hear the common refrain among DBAs all the time. Back up your data! Test your restores! If you can't restore the backup, it's worthless. And yes, absolutely, you have to back up your databases - your job, and the company, depend upon it.
But are you backing everything up?
Saturday night was an ordinary night. It was getting late, and I was about to put my computer to sleep so I could do likewise. Suddenly, everything on my screen was replaced with a very nice message telling me that something had gone wrong and my computer needed to be restarted.
Uh oh.
In 7 1/2 years of using OS X, I've had something like this happen maybe 4 times.
The system finished booting after what felt like an eternity & I got back into my applications. I opened up PowerPoint, as I had it open before the crash so I could work on my SQL Saturday Rochester slide deck whenever inspiration struck. I opened my file, and was greeted by nothingness. I flipped over to Finder and saw zero bytes displayed as the file size.
Uh oh.
"But Andy," you say, "you use CrashPlan, right? Can't you just recover the file from there?" Well, you're half right. I do use CrashPlan. I even have a local, external hard drive (two, actually) that I back up to in addition to CrashPlan's cloud service. But I couldn't recover from any of those.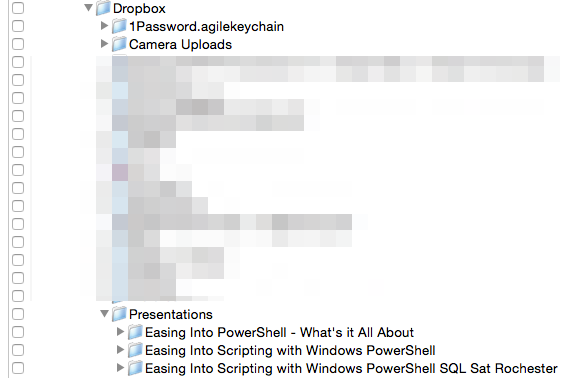 Because Dropbox is already "in the cloud", I had opted to not back it up with CrashPlan when I first set it up. After all, it's already a backup right? It's not my only copy, it's offsite, it's all good.
Not so fast. When my system came back up, Dropbox dutifully synced everything that had changed - including my now-empty file.

So, now what? Fortunately, Dropbox allows you to revert to older versions, and I was able to select my last good version and restore it.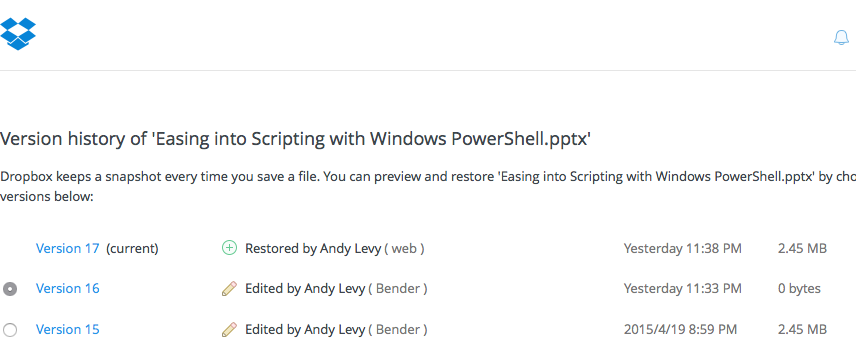 Lessons Learned
I broke The Computer Backup Rule of Three and very nearly regretted it. For my presentation:
I had copies in two different formats - Dropbox & my local (internal) hard drive
I had one copy offsite (Dropbox)
I only had two copies, not three (local and Dropbox).
Even scarier, if Dropbox didn't have a version history or it had taken me more than 30 days to realize that this file had been truncated, I'd have lost it completely.
Everything else on my computer was in compliance with the Rule Of Three; I just got lazy with the data in my Dropbox and Google Drive folders. I've since updated my CrashPlan settings to include my local Dropbox and Google Drive folders so that my presentation should now be fully protected:
Five copies

Local drive
Two external drives w/ CrashPlan
CrashPlan cloud service
Dropbox/Google Drive (different content in each)

Three formats

Spinning platters in my possession
Dropbox/Google Drive
Crashplan

Two copies offsite

CrashPlan cloud
Dropbox/Google Drive
And don't forget to test those backups before you need to use them. Dropbox, Google Drive and other online file storage/sync solutions are very useful, but you cannot rely upon them as backups. I don't think you'll ever regret having "extra" backups of your data, as long as that process is automatic.